Best Burger in Amarillo
Posted on October 20, 2021
The Article
You might think that searching for the best burger in Amarillo is a fool's errand because there are so many burger joints in our great city and in here the Texas panhandle we are known for our amazing beef… but even though this fantastic little town of ours may be lined with burger palaces as far as the eye can see, at The Drunken Oyster we take great pride in offering our weekly tribute to the bless-ed Texas burger gods. Our Weekly Burger Special at The Drunken Oyster is certain to be unlike any burger that you can get roaming the streets of Amarillo. These babies are spectacular, one-of-a-kind masterpieces of beef and bread! Looking for the best burger bar none in Amarillo? You came to the right place!
One of the many reasons that we are considered to be the best bar in Amarillo is not just because of our awesome bartenders and drink specials; it's also because we have, by far, the best Happy Hour in Amarillo complete with a late night burger menu! Sure – everyone knows that you can get the freshest seafood in Amarillo here, or even the best Cajun food Amarillo has to offer – but not many people realize that best gourmet burgers in town are right here at The Drunken Oyster! Beer, shot, burger anyone? BINGO! You got it! Our burgers are available until midnight during the week and 2 AM on the weekends – and we are one of the only places in town to get a serious burger like these at those hours.
The Best Burger Joints in Amarillo, TX
Now before we set off a major burger war, please don't get me wrong! We have darkened the doors of countless "really good" burger joints throughout Amarillo over the years… We've waited on line at The GoldenLight Cantina on many a night to listen to some great music and grab a Double Burger smothered in chili. (Love it! No complaints from us.) We've also been known to do an early pre-shift run for Green Chile Cheeseburger over at Blue Sky Texas! One of those bad boys with their BLUE BELL® Vanilla Ice Cream Shake and you're ready to rock & roll for sure! Like I said – Welcome to Texas – you can shoot a six-gun in just about any direction and hit a great burger restaurant.
But here is the Amarillo insider top tip that you really need to know about: When it comes to making extraordinary burgers, what we do here at The Drunken Oyster is just not typical for Amarillo, TX. The burgers at The Drunken Oyster are seriously NEXT LEVEL. As one customer recently put it: They are "other world-ly." Don't believe me? Just check out our Drunken Oyster Instagram feed. In fact – please Like and Follow Us on Instagram. Besides actually visiting the restaurant, it's a great way to see what we're up to and why we are considered by many to be the best restaurant in Amarillo. It's one thing to LIKE an Instagram Page; ours is going to make you want to lick your smartphone. (PS – Please don't do that.)
What Makes Ours The Best Burgers in Amarillo?
All of our burgers at The Drunken Oyster start with a special blend from Certified Angus Beef that they make especially for us. It's a special combination of high-grade chuck, brisket, and ribeye from a well-marbled steer giving it the perfect fat-to-protein ratio. We form them into thick 8-ounce patties, making our burgers thicker than most. You know what I mean… most of the burger places in Amarillo these days serve up those thin smash patties with a ton of condiments on them. We go the other direction and give our customers a hardier, meatier, more flavorful burger. We season the meat right before we hard sear our patties to juicy perfection. A Drunken Oyster burger is a burger that has just the right amount of beefy, meaty funkiness… (Yes, if you're food snob, you may even utter the word: "umami." And if you do, your friends will most likely make fun of you. You've been warned.) They are simply over-the-top awesome.
On any given day, you can always get our signature On the Bayou Burger, which is a ½ pound perfectly seasoned Certified Angus Beef burger topped with Andouille Sausage, Pepper Jack Cheese, pickled onion, lettuce, and tomato. But for a real treat – ask about the Weekly Special Burger. Or if you would like, scan our Instagram feed, and pick out a burger special from weeks past! We'll make it for you! Like the Fun Guy Burger – a triple bacon mushroom burger with ooey gooey cheese. Or The All-American Burger – made with three ¼ pound Certified Angus Beef smash patties, Monterey and pepper jack cheese, lettuce, tomato and everyone's favorite sauce, spicy remoulade. Or the awesome Poblano Bacon Jam Triple Cheeseburger – and 8oz certified Angus burger with poblano bacon jam, Pepper Jack cheese, American cheese, Monterey cheese, lettuce, and tomato on a ciabatta bun!
Sure, the pictures are fun, but there is no substitute for trying one of these amazing burgers in-person! We serve them up all-day, every day; you can even score one of these bad boys while your friends are enjoying their eggs benedict at the best brunch in Amarillo! Our chef-worthy burgers at The Drunken Oyster are legendary and for the real burger lover – they are non-stop juicy ecstasy! Come in and try one today! We'll even provide you with extra napkins at no extra charge! Trust us – you're gonna need them!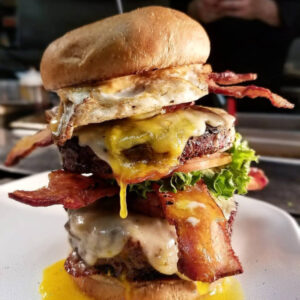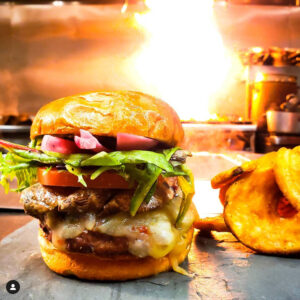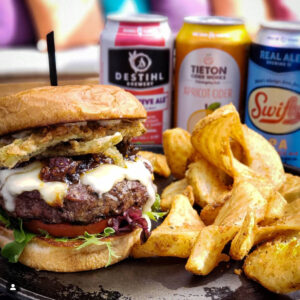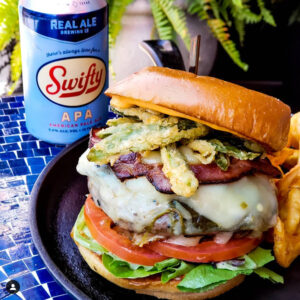 View All Updates