Best Easter Brunch in Amarillo
Posted on April 4, 2022
The Article
The best Easter Brunch in Amarillo is at The Drunken Oyster! Period. It's no secret that we are home of one of the best Amarillo Brunch Spots in the city – and this is the post to read if you want to learn why our Easter Sunday Brunch reservations are so popular. We are committed to providing our customers with elevated dining experiences that are unmatched in Amarillo. When we plan our Easter Brunch every year, we focus on four major objectives – provide the best Easter Brunch dishes in Amarillo, make sure our Easter Brunch cocktails are refreshingly innovative and fun, create a warm inviting atmosphere and make sure our customer service is on point! Our team at The Drunken Oyster stands ready to serve you with the best Easter Brunch in Amarillo that is so good that you'll be hopping out of bed on Easter morning in eager anticipation!
The Best Easter Brunch Dishes are Served at The Drunken Oyster
Easter Sunday is known for family friendly traditions like egg hunts, the Easter Bunny and Easter parades. Some restaurants across Amarillo are celebrating the holiday with Easter buffet brunches and special prix fixe menus. You may have to hunt for your Easter Eggs, but you shouldn't need any help finding the best restaurant Amarillo! You would be hard pressed to find a better place to host your family's Easter celebration than The Drunken Oyster.
And let's face it – what better way to celebrate the Easter in Amarillo than with Mimosas and Eggs Benedict, right? Well, when it comes to the almighty egg – we treat them with the deepest respect. Our Easter brunch menu offers some of the most amazing egg dishes in the city! Like our Crab Croquette Eggs Benedict featuring our luscious fried crab croquettes and our signature Cajun Hollandaise Sauce; or our Country Fried Eggs Benedicts featuring our famous fried chicken with perfectly poached eggs, pork shoulder, and our finger-lickin' White Country Gravy.
Eggs not your thing? Don't worry, we won't tell the Easter Bunny! Consider our succulent Shrimp & Grits, hot gooey Lobster Mac & Cheese, or our Cajun Chicken & Andouille Sausage Gumbo! And as our namesake suggests, we always have the freshest selection of hand-shucked oysters flown in daily! (We're know for having the freshest seafood in Amarillo!)
If you are more of a chocolate Easter Bunny and jellybean kind of Easter Brunch goer, have no fear! We have plenty of options that are sure to tame any sweet tooth! Try our Louisiana Bread Pudding French Toast with warm butter bourbon sauce or our Bananas Foster Pancakes with dark rum and brown sugar sauteed ripe sweet bananas! Or you can explore something a little wilder with a dish that we affectionately call The King – it's a bacon infused waffle with peanut butter, chocolate, banana… and MORE bacon! It's the perfect balance of salty and sweet! You can't go wrong – they are all a delicious piece of heaven on a plate!
TOP TIP: Holidays at The Drunken Oyster are super special, and once they are announced, reservations fill up very quickly. Whether you are looking for the best St. Patrick's Day Dinner in Amarillo, or the most romantic Valentine's Day Dinner in Amarillo, or the best Mother's Day Brunch in Amarillo, we have you covered – but PLEASE make your reservations early!
Our Easter Brunch Features Amazing Easter Cocktails
Between the Easter egg hunts, the Easter Bunny and Easter baskets overflowing with cream-filled eggs and chocolate bunnies, it may appear that kids have all the fun on Easter. However, once you try one of our special springtime brunch cocktails, you'll agree that we've come up with a deliciously grown-up way to celebrate this wonderful Spring holiday!
And let's face it – what better way to celebrate springtime than with Mimosas and Eggs Benedict, right? Considered by many to be one of the best bars in Amarillo, our Easter Brunch drink specials are truly the best in town! Our expert bartenders will also be serving up our crowd-pleasing standards during our Amarillo Easter Brunch – from our amazing Bloody Marys to our Irish Coffee, we have something for everyone. Ready for something different – try a Yellow Belly Breakfast made with orange juice, amaretto, beer, and a cherry! Or a Morning Mule made with orange juice, Tito's vodka and Ginger Beer.
TOP TIP: We are home to the One Dollar Mimosa Refill! Our signature Mimosas are made with premium champagne and orange juice, and they are DELICIOUS!
Amarillo Easter Brunch with Live Music?
If you're not into cooking for large groups or doing dishes, then hitting up a yummy Easter brunch is the ideal move. But you may be thinking, "what about the atmosphere?" We know how to set the stage for an awesome Easter meal! Great food, great drinks, and GREAT music! The Drunken Oyster has been long considered as a best bar for live music in Amarillo, and our Easter Brunch is no exception. When searching for the best Easter Brunch in Amarillo, if live music is one of your criteria, we have you covered at The Drunken Oyster! We feature some of the best live bands in Amarillo every week!
A Top Amarillo Restaurant with Impeccable Service
From our servers to our hosts to our bartenders – we are known for our top-notch customer service. We pride ourselves in providing a one-of-a-kind dining experience in Amarillo and we are confident that you feel right at home in our dining room! Brunch is a popular Easter meal in Amarillo, and it's made that much better by being able to dress up in your Sunday best and enjoy a nice Easter meal out of the house! It's a holiday and time to get hoppin' for that Easter breakfast. You worry about finding those Easter Eggs on Easter morning; let us handle everything else!
(Looking to sleep in on Easter? No, worries! We'll be serving up the best Easter dinner in Amarillo! Give us a call!)
Make your reservations for the best Easter Brunch in Amarillo today!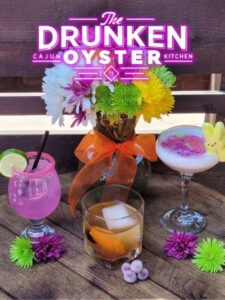 View All Updates