Amarillo Thanksgiving Catering
Posted on November 10, 2022
The Article
Need a last-minute solution for Amarillo Thanksgiving Catering for your family's Thanksgiving dinner? If you a planning an Amarillo Thanksgiving, restaurants that are open can be hard to come by. But don't worry; we've got you covered! At The Drunken Oyster, we are closed for dinner service on Thanksgiving so that our amazing staff can spend time with their families, but that doesn't mean that we're not thinking of YOUR families too! We offer the best Thanksgiving Catering Menu in Amarillo! You enjoy your time with your family and let us do all the cooking! (PS – Our Thanksgiving turkeys are impressive. The white meat is super moist, and the dark meat is fully cooked, the skin is crispy, and the whole dang bird is perfectly seasoned. Your guests will ask you how you did it!)
This year our Amarillo Thanksgiving Take-Out Menu includes the following (all items are ala cart):
Full Prime Rib
1/2 Prime Rib
20-24lb Turkey
Signature Stuffing
Homemade Cranberry Sauce
Green Bean Casserole
Mashed Potatoes & Gravy
Sweet Potato Casserole
Dozen Baked Dinner Rolls
Smoked Gouda Mac -n- Cheese
House Salad
Extra Gravy
Bread Pudding
Pumpkin Spice Bread Pudding
Baker's Tray of Apple Crisp
This year, ordering is easy as 1-2-3! You can place your order on our Toast App:  https://www.toasttab.com/the-drunken-oyster
To find the Amarillo Thanksgiving Takeout Menu in the app easily, make sure you use the "Choose a Menu" dropdown and scroll to "Thanksgiving."
Need a place to grab a drink while you're waiting for Thanksgiving to start? No problem. While there are plenty of bars in Amarillo to choose from, we think that you'll be impressed with our holiday drinks and classic cocktails. We won't be serving sit-down dinner that night, the bar will be open on Thanksgiving! Stop by for a holiday cocktail!
After-Thanksgiving Festivities… and Brunch!
Let's face it, no one wants to cook the day after Thanksgiving. It's Black Friday. You have shopping to do. You can't be held up by cooking and cleaning. We have the solution: The Drunken Oyster's Black Friday Brunch! This brunch event is off the chain; and unless you have been hiding under a rock, you already know that The Drunken Oyster is home to the best brunch Amarillo has to offer! Check out our Country Fried Breakfast – a beautiful chicken fried steak, two farm fresh eggs (prepared however you like them), our seasoned breakfast potatoes, mixed greens, and our signature white gravy! A-M-A-Z-I-N-G!
Did you know that you could have the best steak in Amarillo for brunch? Try our Steakhouse Skillet! It comes with a beautiful Certified Angus Beef® 10-ounce New York Strip, two farm fresh eggs and a healthy pile of potato hash!
Need something a little lighter after your big Thanksgiving meal? Try our Lobster Benedict! Imagine a beautiful portion of fresh sweet lobster covered in butter and garlic on top of two perfectly poached eggs and drizzled with Cajun hollandaise sauce… (whew… my mouth is watering just thinking about it). As one of the top seafood restaurants in Amarillo, our seafood is ALWAYS fresh. (No joke: Our seafood is flown into Amarillo for us. Every. Single. Day.)
Check out our entire Brunch Menu here: https://drunkenoysteramarillo.com/wp-content/uploads/2020/12/Brunch.pdf
Dinner on Thanksgiving Weekend in Amarillo
The Drunken Oyster is closed for dinner on Thanksgiving Day, but we are back open for business on Black Friday (HINT, HINT: Check out our Amarillo Black Friday Brunch); and the Saturday and Sunday after Thanksgiving is always fun, lively, and delicious at the restaurant! This year we have some amazing holiday specials that you need come check out. And if you are out shopping, don't sweat it. TOP TIP: The Drunken Oyster is one of the few restaurants in Amarillo open late! We serve dinner until 2AM on Friday and Saturday nights!
Sit-Down Dinner on Thanksgiving Day
Finding a fine dining Amarillo restaurant for a sit-down dinner on Thanksgiving Day can be tough, but there are still plenty of places that do it. If you are not already ordering Amarillo's best Thanksgiving takeout menu from The Drunken Oyster, check out the Saltgrass Steakhouse Turkey Plate. It comes with Roasted Turkey Breast, Dressing, Gravy, Garlic Mashed Potatoes, Green Bean Casserole, Cranberry Sauce, choice of Salad or Soup. It's available for dine-in only and it sells out fast!
And then there's also The Big Texan Thanksgiving Day Buffet! It's a one-of-a-kind holiday feast that's been around for over 60 years. It's typically served from 10AM to 3PM and includes Traditional Carved Turkey, Carved Cajun Turkey Breast, Carved 8oz Prime Rib, Cornbread Dressing, Mashed Potatoes, Giblet Gravy, Fresh Salad & Fruit Bar, Green Beans, Yams, Cranberry Relish, Dinner Rolls, and a choice of Pumpkin or Pecan Pie.
Happy Thanksgiving from All of Us
Whether you choose to cook at home, or venture out into the city, everyone here at The Drunken Oyster wishes you a healthy and joyful holiday season. From our family to yours: We hope your Thanksgiving is filled with warmth, happiness, and love.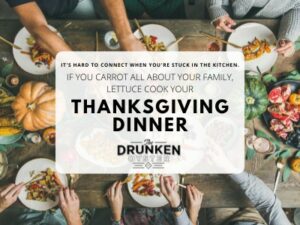 View All Updates