Best Steak in Amarillo
Posted on July 15, 2022
The Article
Texans love their beef and it is no secret that the best steak in Amarillo is a hotly contested topic. Let's face it – we can all agree that there are some great steaks to be found in Texas, and Amarillo certainly has its fair share of awesome Amarillo steakhouses… but what is it that YOU are looking for in a steakhouse in Amarillo? Many people consider The Drunken Oyster to be the best restaurant Amarillo has to offer, and here's what our staff thinks you should be considering when you are looking for the best steak in Amarillo. Read on!
The Steak is Just One Part of The Overall Calculation
Assuming the steaks are out-of-this-world – what makes you choose a Texas Steakhouse in Amarillo?
Is it the particular cuts of beef offered? Or is it the various sides available? Or the restaurant's wine selection? Or maybe not everyone in your party wants a steak? So maybe you need choose a steakhouse that specializes in offering some of the best steaks in Amarillo BUT also has a great variety of other dishes for the additional people in your party.
An Amarillo Seafood Restaurant Offering the Best Steak in Amarillo?
Could it be that an award-winning chef and self-professed reformed vegetarian originally from New Jersey is your secret weapon for finding the best steak in Amarillo? Enter The Drunken Oyster's Owner Rory Schepisi.
Rory is Amarillo's very own celebrity chef that has gone toe-to-toe with some pretty impressive culinary masters over the years – including grill master Bobby Flay – and one thing is for certain: She knows her way around a steak. In fact, she is so good at serving up some of the best steaks in Texas, that Certified Angus Beef ® has named her one of their brand ambassadors! Rory was recently featured on PBS, discussing her journey in becoming a chef, what brought her to the Texas Panhandle, and her passion for sourcing the best beef and serving great food. Click here to watch Chef Rory Schepisi's interview in the Panhandle PBS "Savor The Goods" Dinner Series.
If you are familiar with The Drunken Oyster in Amarillo, you may know that they are known as one of the best seafood restaurants in Amarillo. If you want to hear about the most amazing Cajun food Amarillo foodies are always talking about, The Drunken Oyster is the place!  Looking for the best fine dining Amarillo has to offer? The Drunken Oyster just won the 2022 award for it! Trying to find the hottest Brunch Amarillo epicureans are always going to? You guessed it – it's at The Drunken Oyster.
BUT you may not know that our amazing little restaurant is serving up some of the best STEAKS in Amarillo!
What Qualifies as the Best Steak in Amarillo?
Asking who serves the best steak in Amarillo is a subjective question. Individual preference is a big player in finding an answer. So let's take some considerations off the table by first quickly discussing what a steak experience at The Drunken Oyster isn't.
Is Size of Your Amarillo Steak Important?
Well, based on a 2,000-calorie diet, the U.S. Department of Agriculture recommends you consume no more than 4 ounces of total meat per day. Many people find that after they eat 6 to 8 ounces of red meat at one meal, they feel extremely satiated. So ordering a huge steak might sound like a great idea, but unless you are sharing it with friends, a good portion of it is probably going home with you in a doggy bag. (Unless you are professional eater – then all bets are off. You know who you are!)
If you are looking for a huge steak in Amarillo, that's not us. You want a steak at The Big Texan Steak Ranch. It's a big tourist destination along Route 66. They are home to the World Famous 72 Ounce Steak Challenge. It comes with a salad, baked potato, shrimp cocktail and 72 ounces of beef – and if you eat the whole meal – shrimp and everything – in one hour, your whole meal is FREE! No one can help you, so you might end up in the emergency room, but hey – free is free. And you'll have a kick ass story to tell the grandkids.
Our steaks are cut for normal humans. The Drunken Oyster always has three major cuts of Certified Angus Beef ® steaks on our everyday menu. They range in size from 6 ounces to 12 ounces. Enough to fill you up, with enough left over to give a piece or two to the person sitting across from you with the sad eyes that wished they ordered the steak too. We also sometimes offer seasonal specials on special cuts or special preparations of beef that are a little bigger. None of them will put you in the hospital. (DISCLAIMER: That's assuming you take human bites, you don't have a pre-existing condition, and you don't try to eat the bone. That one's for our lawyer friends.)
Is the Cut of Your Amarillo Steak Important?
In a word: YES.
At The Drunken Oyster, we are known for our perfectly aged Certified Angus Beef® steaks. You don't need 15 different cuts of beef to choose from to offer your clients an amazing steak experience. Here are the three cuts that we have all the time:
For rich, juicy flavor, choose our 12-ounce Certified Angus Beef ® New York Strip. The Strip has a long sliver of fat along one outside edge that imparts flavor and helps keep the steak moist through cooking. The NY Strip Steak has tighter texture and is known for its signature "chew." We serve ours with Jambalaya Rice and Pesto Sauteed Zucchini.
Next up is our 12-ounce Aged Certified Angus Beef ® Ribeye. The Ribeye is a softer and extremely flavorful cut of beef. Its texture is smoother than the NY Strip. Ribeye steaks generally have more internal fat and marbling than the more muscly New York strip. The Ribeye is cut from the upper rib, which is a muscle group that the cow uses less than the short lion muscle (from where the NY Strip is cut from). This means more fat, less tough, softer, juicier mouthfeel with a ton of rich steak flavor. We serve our Ribeye with our Signature French Fries and Pesto Sauteed Zucchini.
Lastly, for a super tender steak, choose our 6-ounce Certified Angus Beef ® Filet Mignon. The Filet Mignon is one of the most tender cuts you'll ever sink your teeth into. While it's true, the Filet Mignon doesn't have the robust flavor of a Ribeye steak, it does have a buttery taste with a texture that "melts-in-your-mouth." We serve our Filet Mignon with Sugar Grilled Asparagus, Smoked Gouda Grits, and Fried Leeks. Yes, it is as amazing as it sounds. (And look, if you still want 72 ounces of beef, just order a dozen of them. You will die penniless… but you'll be oh-so-happy.)
We do have other cuts of beef that we showcase from time to time on our Specials Menu.
Is the Quality of Your Amarillo Steak Important?
Of course it is!
As we mentioned, Chef Rory has been named a Certified Angus Beef ® Brand Ambassador because of her strong commitment to QUALITY. Choosing the best cuts of beef for the patrons of The Drunken Oyster is a passion of hers that resonates with all her Chefs. They hand pick and cut beautiful steaks that are well-aged and well marbled.
Marbling refers to the white flecks and veins of fat interspersed throughout the beef. contributes greatly to a steak's flavor, juiciness, and tenderness, and is the major factor in the USDA grading system. Higher quality beef has more marbling. Our beef is aged to release its full flavor and to develop tenderness.
When trimming your steak, we cut away any excess fat and gristle and leave only enough to impart flavor and tenderness. (No one wants to eat a big hard chewy piece of fat. Unless you're a German Shepard. We trim our steaks for humans.)
When Ordering the Best Steak in Amarillo, is Temperature Important?
At The Drunken Oyster, we serve our steaks at temperatures that range from "well-done" to "still mooing." Temperature and doneness is a personal preference thing – HOWEVER – there are some things that you should consider when placing your order and choosing your steak temperature. For instance, steaks with a higher fat content are less likely to be completely dried out when cooked to a higher temperature.
(PUBLIC SERVICE MESSAGE: When ordering your steak please understand that we can put it back in if it is too red for your liking, but we can't un-cook a well-done steak. Please do your part in help to eliminate food waste. Thank you!)
Here is a handy-dandy guide and chart to The Drunken Oyster's Five Levels of Steak Doneness: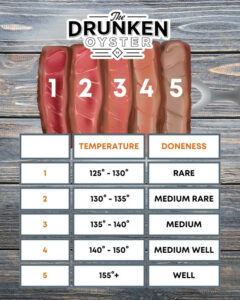 1. RARE: A steak cooked "rare" is not "raw".  The outside of the steak will be cooked brown on the outside but will remain very red and soft on the inside.  The center will be cool to the touch.
2. MEDIUM RARE: Your steak will be red, but warm in the center.
3. MEDIUM: Your steak will be mostly pink.  A small ring of grey may form on the outside and a strip of red will remain in the center.  For steaks with more marbling, this will be the temperature where the fat begins to liquefy and add flavor.
4. MEDIUM WELL: At the point your steak will start becoming very firm.  The steak will become primarily grey and only a light color of pink will remain in the center.  Cuts with higher levels of marbling will begin to shrink as the fat begins to melt out of the steak. This temperature will also start to dry the steak out.
5. WELL: A well-done steak will be grey throughout.  It will be very firm and most of the juices will have cooked out of the steak.  With most of the fat and water cooked out, the steak will have lost a good portion of its size.  If you ask for a steak cooked WELL DONE, we will oblige you; but we do not recommend it.
What Can Be Better Than an Amarillo Steak House?
Our big, beautiful state is known for its amazing cattle country and the prized beef it produces, so it is no surprise that Texas also houses some of the best steakhouses in the country. But the big takeaway here is this: Please don't think that every restaurant in Texas that has the word "steakhouse" in their name is the only place that you can get a great steak. We'll put our steaks up against any of the big boys in town!
So next time you are in Amarillo, here are a few more key points to remember about The Drunken Oyster:
1. Looking for an awesome late-night dining option? We are one of the top Amarillo restaurants open late!
2. Searching for the best bars in Amarillo? You'll find that there is a lot to love about The Drunken Oyster. First off – we are open late and we serve food late. Second – we are the home of the Reverse Happy Hour from 10PM to Midnight Monday through Friday! It's the Happy Hour Amarillo is talking about.
3. We have the burgers Amarillo foodies crave! Sometimes you just need a Beer, a Shot and a Burger to make it through the day. We've got you.
4. The Drunken Oyster has the kind of live music Amarillo wants to hear! Check out our Facebook page for our live music schedule!
Thanks for reading!
View All Updates