Things To Do in Amarillo
Posted on September 15, 2022
The Article
It's no secret that there are a ton of things to do in Amarillo! And while there is truly something for everyone, we have compiled an awesome 2022 List of Things To Do in Amarillo TX that includes must-see places, museums, attractions, parks, and the best places to eat in Amarillo! Everything from the most iconic selfie location to the best fine dining in Amarillo! Looking to see a Bobcat, Bengal Tiger, or Black-handed Spider Monkey? How about take a picture with a pristine 1934 Buick? Or devour the best steak in Amarillo? If so, you have definitely come to the right place! (And these are only the things that start with the letter B!) So let's get started with our list of top Amarillo things to do!
Cadillac Ranch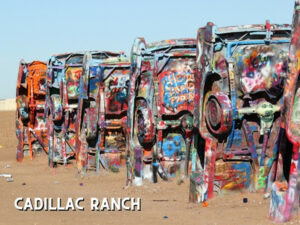 There are few things that scream "I'm in Amarillo!" more than a selfie in front of the iconic Cadillac Ranch! Cadillac Ranch is a public art installation and sculpture consisting of ten Cadillacs (1949–1963) buried nose-first in the ground. Installed in 1974, the cars were either older running, used or junk cars — together spanning the successive generations of the car line — and the defining evolution of their tailfins.
Cadillac Ranch was originally located in a wheat field, but in 1997, the installation was moved by a local contractor to a location two miles to the west, to a cow pasture along Interstate 40, to place it farther from the growing Amarillo city limits. Both the original and new site belonged to local millionaire, Stanley Marsh 3, the patron of the project.
Cadillac Ranch never looks the same from week to week because visitors are encouraged to leave their mark by painting on top of the existing artwork.
Address: 13651 I-40 Frontage Road, Amarillo, TX 79124
Phone: (833) 330-2650
Panhandle-Plains Historical Museum (PPHM)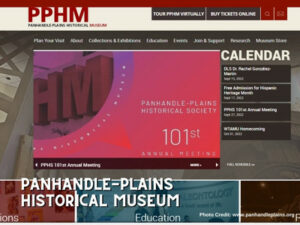 Panhandle-Plains Historical Museum (PPHM) is an amazing place to visit. It is the largest history museum in Texas, with almost three million artifacts dedicated to preserving the region's past. In PPHM's tremendous holdings, visitors can unlock the hidden world of the ancient past through the paleontology, geology and archaeology areas while learning about the rich history of the Panhandle-Plains region.
The museum's permanent exhibits include American Western life and agriculture history artifacts, art, paleontology, geology, Native American art and artifacts, firearms, antique vehicles, decorative arts and furniture, petroleum industry artifacts, sports artifacts, and textiles. The museum also features an indoor Pioneer Town consisting of 26 buildings that include a livery, saloon, schoolhouse, pioneer cabin and adobe casita. At PPHM, visitors find the heart of Texas art, the free spirit of the Taos and Santa Fe schools of art, and unsurpassed Southwest American Indian art.
Address: 2503 4th Avenue, Canyon, TX 79015
Phone: (806) 651-2244
The Drunken Oyster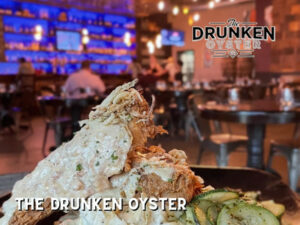 Sure, there are many restaurants throughout the city, but The Drunken Oyster is considered by many to be the best restaurant Amarillo has to offer. Offering primarily Cajun food in Amarillo, The Drunken Oyster features classic Cajun and Creole dishes like Crawfish Etouffee, Jambalaya, Gumbo and of course those highly sought after Charbroiled Oysters which are sure to tantalize your taste buds. Known throughout the city as Amarillo's fresh seafood restaurant, they fly in a variety of fresh oysters and fresh caught fish from both coasts on a daily basis. But if seafood is not your thing, that's not a problem! The Drunken Oyster has some of the best burgers Amarillo goes crazy for, as well as mouth-watering hand-cut Certified Angus Beef ribeyes and steaks! In fact, some say this place has some of the best steaks in Amarillo!
The Drunken Oyster is great place for Amarillo nightlife, with a beautiful full-service bar and killer happy hour specials. The restaurant is home to the Velvet Curtain Theatre which hosts some of the best live music Amarillo has to offer and they are one of the few Amarillo restaurants open late. You can usually get a delicious meal up until midnight during the week and up to 2AM on weekends.
The décor and vibe at The Drunken Oyster will make you feel like you are back in historic New Orleans with its aged brick walls, gas lanterns, heavy drapes, and iron chandeliers. If you are looking for a great meal while the sun is still up, this hands down one of the places to go for brunch or lunch in Amarillo.
If that wasn't enough, they also have a staggering selection of liquors and aperitifs. The Drunken Oyster is the only establishment Amarillo that offers a selection of absinthe and drips. It truly is a MUST DO when you are in Amarillo!
Address: 7606 SW 45th Avenue, Ste 100, Amarillo, Texas 79119
Phone: (806) 418-6668
Palo Duro Canyon State Park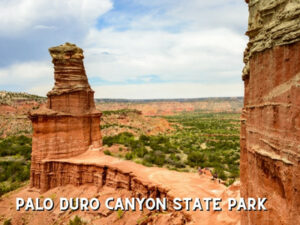 Palo Duro Canyon is a canyon system of the Caprock Escarpment located in the Texas Panhandle near the cities of Amarillo and Canyon. As the second-largest canyon in the United States located in the heart of the Texas Panhandle, it is often referred to as "The Grand Canyon of Texas."
You can explore the canyon by foot, mountain bike, horse, or car. They have more than 30 miles of hiking, biking, and equestrian trails. You can also camp, geocache, study nature, or do some bird watching. During the summer, there are also live performances of TEXAS Outdoor Musical which tells the history of TEXAS through song, dance, and water works!
If you would like to camp in the park, you can choose from campsites with water and electricity, tent sites, equestrian sites, or backpack camping areas. There are three cabins on the canyon's rim and four Cow Camp cabins on the canyon floor. You can also rent a pavilion for a wedding, reunion, or meeting.
If you are not that rustic but want to be, maybe glamping at Palo Duro Canyon is more your style!  This is some serious luxury camping! Each "glamping" site includes a beautiful tent fully furnished with air conditioning, luxury rustic furnishings, refrigerators, microwaves, coffee makers, games, bicycles, gas grills and gas fire pits, covered porches with rockers, porch swings, and much more!
Address: 11450 State Hwy Park Rd 5, Canyon, TX 79015
Phone: (806) 488-2227
Amarillo Museum of Art (AMoA)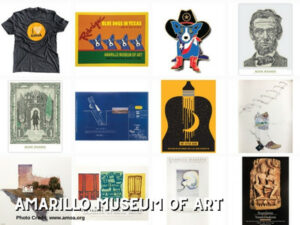 Visiting this museum is one of our favorite things to do in Amarillo! Located in the Amarillo Cultural District, the Amarillo Museum of Art is dedicated to enriching the lives of the diverse people of the Texas Panhandle area, bringing them together for the experience of art through exhibitions, education, and collections. The museum has been curating one-of-a-kind exhibits since 1979, and today boasts an impressive collection that now totals over 1800 works! Each year the Museum presents approximately fifteen art exhibitions representing original works in all media, periods, and styles, ranging from cutting edge to traditional. AMoA also makes a conscious effort to recognize and encourage local and regional artists through a variety of events.
Address: 2200 South Van Buren Street, Amarillo, Texas 79109
Phone: (806) 371-5050
U.S. Route 66 – Sixth Street Historic District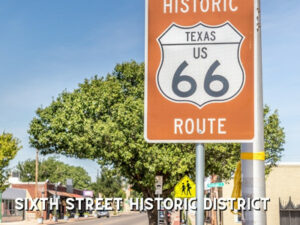 If you have ever wanted to get your kicks on Route 66, now is your chance to do it! The U.S. Route 66-Sixth Street Historic District is Amarillo's most intact collection of commercial buildings that possess significant associations with the highway.  Featuring elements of Spanish Revival, Art Deco, and Art Moderne design, these buildings represent the historic development phases of this early 20th century suburb and the evolving tastes and sensibilities of American culture.
The U.S. Route 66-Sixth Street Historic District comprises 13 blocks of commercial west of Amarillo's central business district.  It runs east-to-west along 6th Avenue between Georgia Street and Forest Street.
Address: 2601 6th Avenue, Amarillo, TX 79106
Bill's Backyard Classics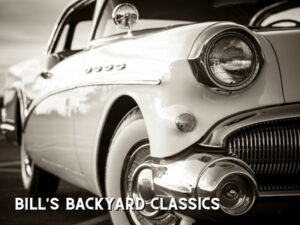 Bill's Backyard Classics is an unbelievable tribute to classic cars!  Their current inventory on display consists of over 90 cars and trucks, of all kinds of makes and models that span a period from the 1920's to 2012.  They have Model As (from 1928), Street Rods, Military Jeeps, Power Wagons, Smart Cars, Corvettes, and so much more.  Our full time custom and repair facility ensures that not only are the cars well maintained, but they are actually enhanced.
Included in Bill's collection are such showstoppers as Bob Seger's '61 Pontiac Catalina convertible and Judge Roy Hofheinz's '56 Cadillac Fleetwood Limousine. The Judge was known the man that built the Astrodome and helped bring baseball to Houston.
Address: 5309 S Washington Street, Amarillo, TX 79110
Phone: (806) 373-8194
Tascosa Drive-In Theater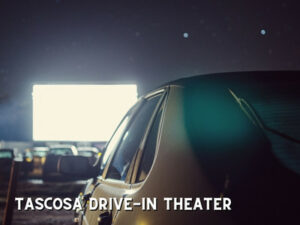 With all of the things to do in Amarillo, you might not consider this throwback gem. The Tascosa Drive-In is a modern-day drive-in movie theater with a serious old school retro vibe. The theater projects a digital picture on a massive screen as crisp stereo sound comes through your car radio. And if that's not enough, they run a first run double feature program on most nights – so that means two movies for the price of one! And if you are looking for some great movie snacks, their concession stand boasts the largest selection with the lowest prices of any theater in town.
Address: 1999 Dumas Drive, Amarillo, TX 79107
Phone: (806) 383-3882
Big Texan Steak Ranch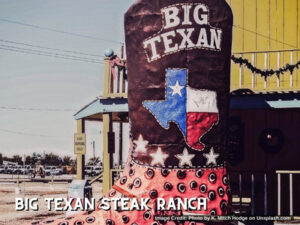 How about a FREE 72 Ounce Steak? Sounds pretty good right? Well, you can have one if you complete the world famous "72 Ounce Steak Challenge" at the Big Texan Steak Ranch! Just finish your 72-ounce steak dinner in one hour or less and it's FREE! Are you up for the task? There is one small catch – you must eat a whole 72-ounce steak dinner. That means 4.5lbs of meat, a shrimp cocktail, baked potato, salad, and a roll with butter! If you fail to complete the challenge, you must pay $72 for your meal. (It's still probably worth it!)
The Big Texan Steak Ranch has been serving up big steak for over 60 years and at the time of this post, there have been over 90,000 attempts to take on the 72-ounce Steak Challenge and believe it or not, over 10,000 people have been crowned champion! The Big Texan is definitely a fun night out!
TOP TIP: The Big Texan also operates an awesome outdoor music venue one mile down the road from their restaurant called The Starlight Ranch and they pull some pretty great music acts! Be sure to check their website for the schedule!
Address: 7701 Interstate 40 East Access Road, Amarillo, TX 79118
Phone: (806) 372-6000
Amarillo Zoo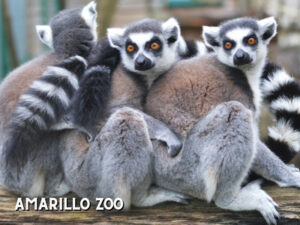 Founded in 1955, the Amarillo Zoo is a fantastic place to share the wonders of the animal world with friends and family of all ages. There are so many things to do in Amarillo Zoo! The beautiful 15-acre zoo is located in Thompson Park and is home to over 60 species, including animals that are native to Amarillo! Bison, black-tailed prairie dogs, black-footed ferrets, and coyotes! The zoo is designed for fun and discovery and will provide a lifetime of memories. Here, you'll do more than just look… you'll experience the animal world. The Amarillo Zoo is accredited by the Association of Zoos and Aquariums. (AZA)
If you have ever wanted to see a Chuckwalla face-to-face, this would be the place to do it! The Amarillo Zoo offers guided tours on special day where their educators bring you on a safari through the zoo to learn about the zoo's history, the animals, and more!
Address: 700 Comanchero Trail, Amarillo, TX 79107
Phone: (806) 381-7911
The Texas Air & Space Museum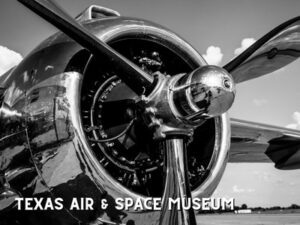 The Texas Air & Space Museum is a museum that celebrates the history of flight. Founded in 1989 by a group of aviation enthusiasts in Amarillo, the museum has a variety of exhibits that explore different aspects of aviation history. There are also interactive exhibits for children and adults alike, including planes on display that you can enter. The museum is home to some historic aircraft including a C-7A Caribou, P-51D Mustang, and a NASA Shuttle Training Aircraft. The tour guides are thoroughly knowledgeable about all of the planes and history on display.
They have a Douglas DC-3 N34 which according to their website is one of only three moveable items that have a place on the nation's National Register of Historic Places. It was placed on the register on May 29, 1997. The other movable items on the register are San Francisco's famed cable cars and New Orleans' Streetcars. There are also numerous other model airplanes, as well as some interactive displays that visitors can enjoy!
Address: 10001 American Drive, Amarillo, TX 79111
Phone: (806) 335-9159
American Quarter Horse Hall of Fame & Museum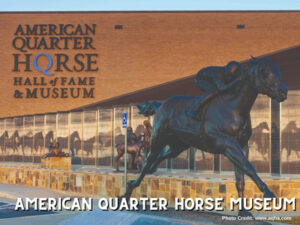 If you love horses, the American Quarter Horse Hall of Fame & Museum is a must see during your trip to Amarillo! The Quarter Horse is the only horse breed native to America and the United States. The earliest records of the domesticating and development of the Quarter Horse traces back to the 1600s. Highly valued as a ranch horse, racehorse and the star of rodeos and other western riding events, the Quarter Horse is the most popular breed in the U.S. The museum is operated by the American Quarter Horse Association, which is the largest breed registry in the world, with almost three million living American Quarter Horses registered.
It is a state-of-the-art facility dedicated to equestrian education and showcases the stars of the American Quarter Horse world, the people and horses who have earned their place as legends. The museum features photographs of honorees and paintings of American Quarter Horses famous in the bloodlines of current champions. There are interactive exhibits about the anatomy of horses, horse riding and the history and disciplines of the American Quarter Horse. Other displays include American horsemanship artifacts, riding and cowboy attire, horse tack used throughout history, photos and ribbons and memorabilia about the Hall of Fame's amazing inductees.
Address: 2601 E Interstate Drive, Amarillo, TX 79104
Phone: (806) 376-5181
Don Harrington Discovery Center and Space Theater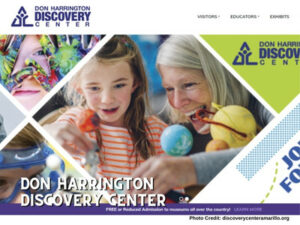 The Don Harrington Discovery Center and Space Theater is a science museum where kids and adults can explore, learn, and have fun. The museum has an amazing planetarium and many interactive exhibits that teach children about space exploration, earth sciences, and more. The center is a great place for kids to investigate their curiosity about science. They can learn about nanoscience, animals, robotics, dinosaurs and more through interactive exhibits. There is an Outdoor Science Park that includes a gazing ball, whisper dishes, tennis ball launcher, a Kundu Drum, Grandioso Chimes, Kettle Drum, and two life-sized animatronic dinosaurs! There are so many things to do!
The center is also home to the Helium Time Columns Monument. This 66-foot-tall sculpture commemorates the 100th anniversary of the discovery of helium. It was built in 1968 and consists of three stainless steel columns in a pyramid holding up a fourth column high into the air. Each leg of the sculpture is a time capsule, with artifacts, letters, and knowledge from 1968 stored inside in an inert helium atmosphere. These time capsules were set to be opened 25, 50, 100, and 1000 years after the statue's dedication in 1968.
Address: 1200 Streit Drive, Amarillo, TX 79106
Phone: (806) 355-9547
And So Many More Things to Do in Amarillo!
Amarillo is growing, vibrant city in the Texas Panhandle that offers a big variety of cool places to experience. Whether you are outdoorsy, or a foodie, a future scientist, a history buff, an audiophile, an art lover, or a cowboy, there really is something for everyone! Amarillo has so many attractions and activities that are worth exploring. There are so many more awesome things to do in Amarillo; we only really scratched the surface. So, make your plans today! Get out there and have fun! And when your feet are tired and you start to get hungry, stop in at The Drunken Oyster to have a great meal and a cool drink to recharge your battery!
View All Updates